Honey
Regular price
$650.00 CAD
Regular price
Sale price
$650.00 CAD
Unit price
per
Sale
Sold out
Brand Name : BeautybyDom
Product name: Honey
Hair Density: 180%( 2.5 bundles with a 5x5 closure) 
Hair color: Highlights
Hair texture: Straight
Wig Length: 16"-26"
Cap Size: Custom (Small-Large)
Glue less: Yes
Hair Quality: Raw Burmese 
Lace type: HD 
Additional Information
Beginner Friendly 
Can be worn Glue-less or with Adhesive 
Hair can be bleached up to #613
Closure or Frontal is bleached and hairline is plucked.  
Due to the pandemic please allow additional time for all shipping.
 Unit comes with adjustable elastic band
Maintenance Tips:

- Keep hair free of tangles
- Deep condition regularly
- Always use protection when heat styling
-Refrain from using excessive products on the hair and lace
- Keep the hair protected with a silk or satin bonnet or head-tie when sleeping
-Wash and condition regularly
PLEASE READ
ALL CUSTOM UNITS TAKES  10-21 business to make and shipping times vary based on your location.
 All wigs will come with the closure or frontal bleached and plucked, Deep conditioned, wash and styled  so your wig will look very natural! Applying liquid or powder foundation underneath your lace, concealer on top of your part.
please note, slight shedding is to be expected when detangling your unit, as all hair sheds and the wefts were cut during construction. If you bleach, color and or use excessive heat you may damage the hair.
please know your correct cap size!
 Each wig remake may not look exactly the same due to the colour been custom! But it will be the same  concept! 
Lighting can cause colour to show up brighter
Please be aware ABOUT  hair care TIPS to ensure a lasting wig!
Care Instructions

Washing Your Hair:

Shampoo and condition/deep condition your raw hair wig using lukewarm water weekly. Doing so will prevent sweat and dirt from building up in your hair and cap and also prevents tangling. Post cleansing, apply some quality leave-in conditioner at the ends and work it upwards towards the roots.

How to Detangle:

Just like you comb your natural hair, it's important to gently comb your wig as well as often as possible to avoid tanglng. It is suggested to begin at the ends and work all the way up, one part at a time, to the roots. Keep the hair moist with the help of a spray bottle to ease out the process and minimize breakage.

Drying:

Hair extensions must be left to air dry. However, if using a blow-dryer is required, keep the dryer setting on cool. The heat from the blow dryer can cause damage to your extensions and negatively impact its durability. The hair must be sectioned neatly to prevent tangling while air drying. Also be sure to utilize a protectan serum or spray before heat styling in any way.

Protect your Ends:

Once your wig is clean after a wash, a light serum can be used on it to combat heat damage and spilt ends. It also leaves your hair with a voluminous shine. It works like a protective coat on hair and prevents water from evaporating, thereby keeping the hair soft, hydrated, and healthy.

DISCLAMER: Just like your own hair if you dont take care of your wig the quality will not last. Our wigs are made with HUMAN HAIR and should be treated as such to ensure a long lasting unit.
Share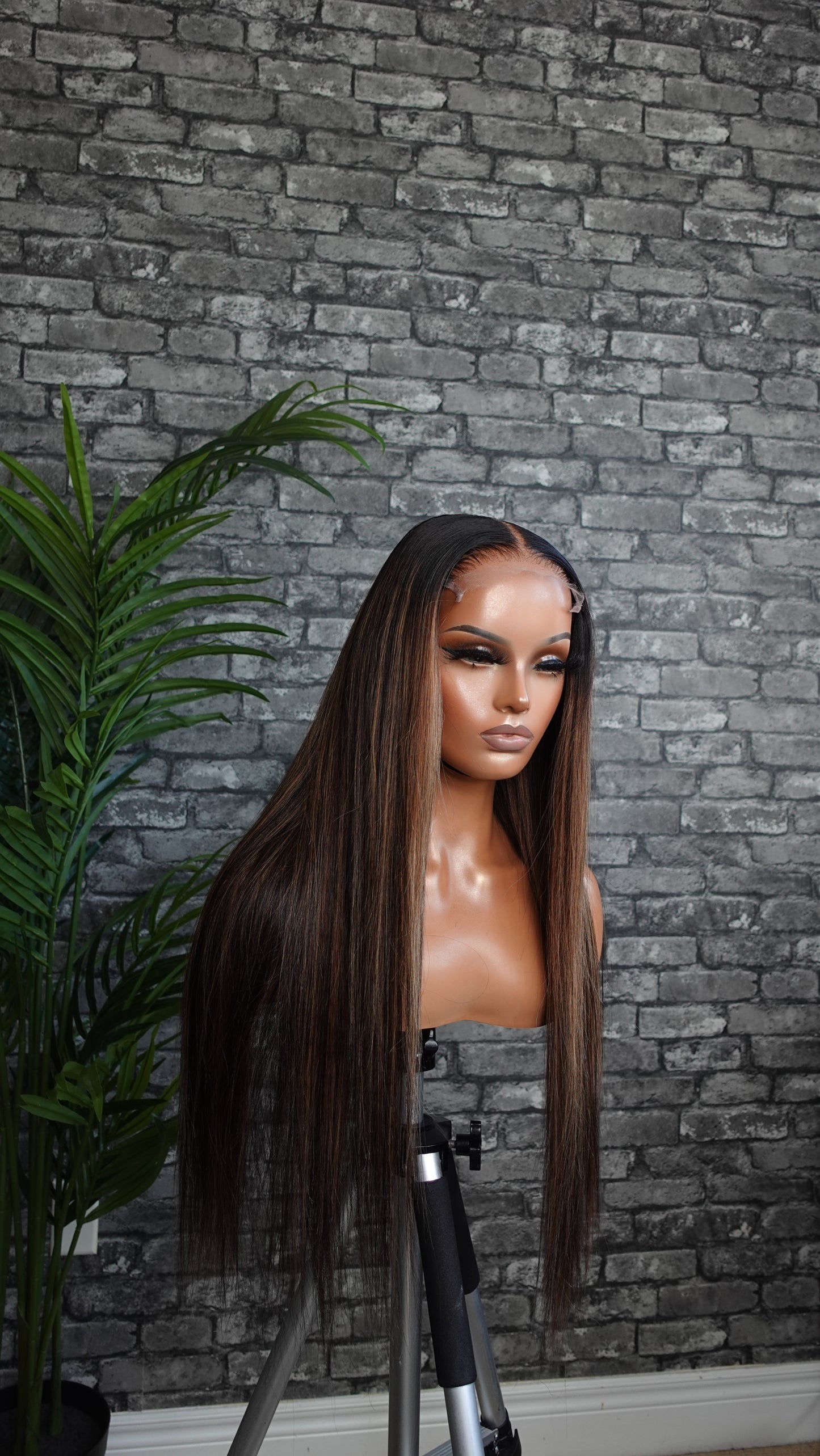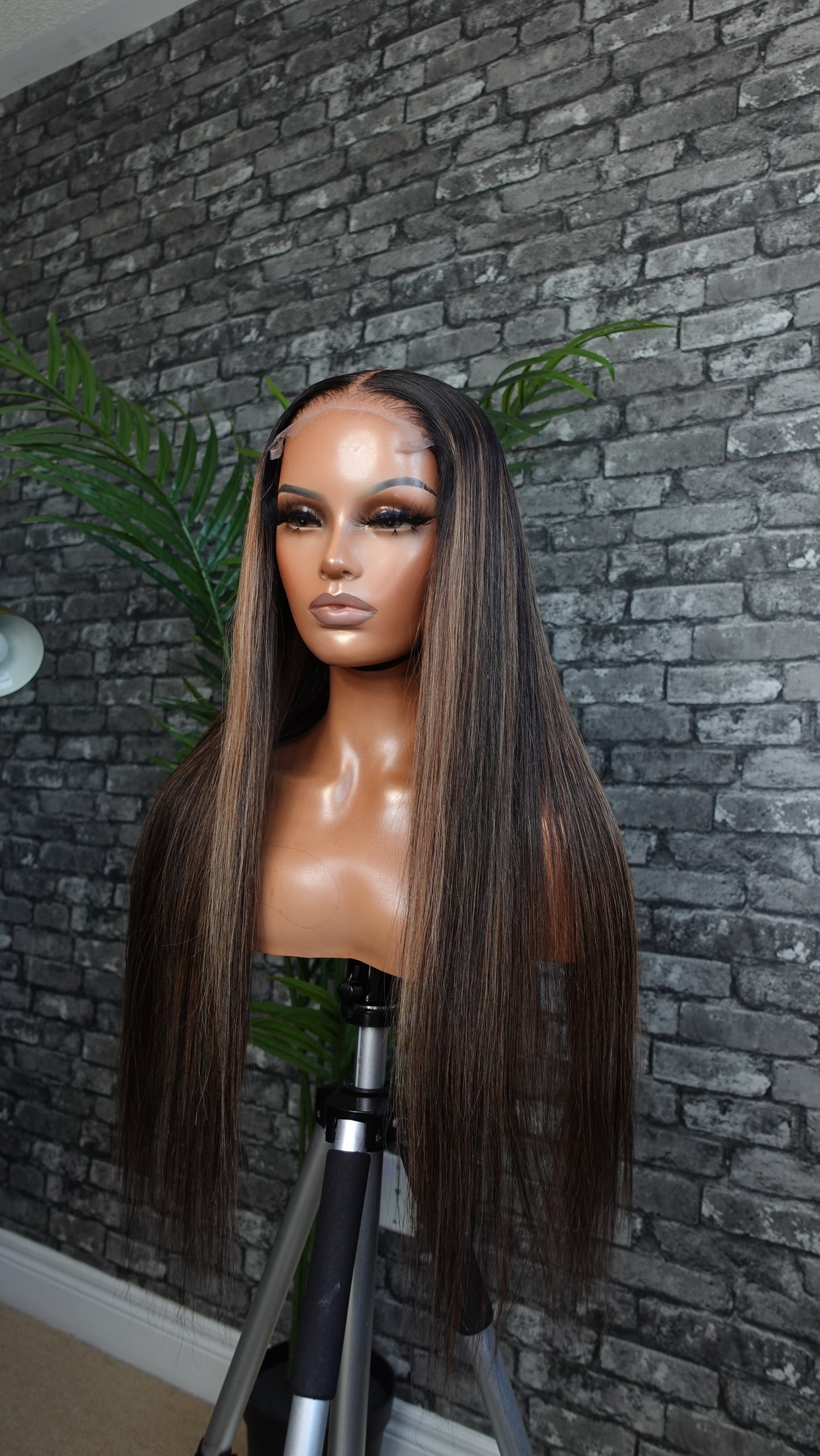 Great quality hair
I finally got my wig installed and I love it. It's glueless as well. Great quality hair.
She's a professional colorist
The hair and color is definitely quality and looks so natural. I love my Honey unit .
Lynette
Honey wig
Really love this wig. The colour, length texture are all perfect. I've gotten so many compliments.I will be purchasing another unit very soon.
Perfect
Shipping was fast and I'm in America. Great quality died hair. True to length. Minimal shedding. Make sure you measure your head size because this is the perfect glueless unit and can't be adjusted. But fits like a glove if you measure correctly.
Honey - Review
The Honey wig is great! The hair quality is great. It's thick and looks so natural. Definitely would recommend. Dom also took the time to answer all the questions that I had and was really professional.